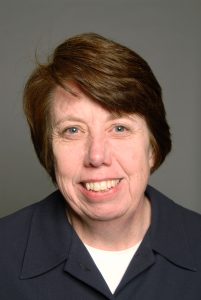 Ann McGowan Porath, managing attorney of The Legal Aid Society of Cleveland's Volunteer Lawyers Program (VLP) and Intake Group, is the 2020 recipient of the Ohio Access to Justice Foundation Denis J. Murphy Award.
The Foundation presents the Denis J. Murphy Award annually to recognize outstanding leadership and advocacy within Ohio's legal aids.
"Ann's career at legal aid is remarkable," said Angie Lloyd, executive director, Ohio Access to Justice Foundation. "She has significantly grown the number of volunteer attorneys who support legal aid. She improves access to justice for Ohio's most vulnerable and is a worthy recipient of the Denis J. Murphy Award."
Since arriving at legal aid in 1984 on a Reginald Heber Smith fellowship, Porath has dedicated her career to providing legal services to Ohioans in need. Under her leadership of the VLP, legal aid expanded its outreach to include more than 100 legal clinics each year. When the COVID-19 pandemic struck, Ann led a pivot to a virtual clinic model so that Ohioans in Northeast Ohio continue to receive legal help.
Porath manages a volunteer roster of more than 3,500 attorneys and law students, who handle 20% of legal aid's cases. She serves as a mentor and advisor to volunteer attorneys and uses her extensive expertise in the law to train pro bono attorneys and to help clients.
Porath is an innovator who creates new pro bono programs. Recognizing the need to engage retired volunteers, Porath developed ACT 2, a program that creates new opportunities for retired attorneys to assist legal aid through pro bono work.
She is known statewide and nationally for expanding pro bono service, and in 2014, she received the Tanya Neiman Pro Bono Professional of the Year Award. Porath will retire this month after a rich and rewarding 38-year career with legal aid. The Foundation is pleased to recognize Porath for her exemplary leadership and commitment to justice.