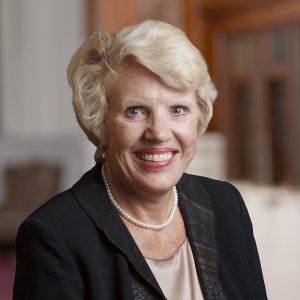 The Ohio Access to Justice Foundation's Board of Directors serve from across the state and are committed to improving access to justice. Meet Board Member Sally Bloomfield, partner at Bricker & Eckler.
What do you enjoy most about serving on the Ohio Access to Justice Foundation Board of Directors?  
I really appreciate the professionalism and transparency of the staff; Angie sets the tone. I also value the fact that our decisions affect how services are provided to those who need, but cannot afford, legal services.
What inspired you to get involved with access to justice work/civil legal services arena?
Probably the pro bono work I was involved with suggested that the Foundation was a meaningful organization that I would like to be involved with.
Are there any access to justice initiatives that you're excited about?  
I have been really excited about the Ohio Legal Help project, which resulted in a separate organization where I serve on the board. The number of Ohioans Ohio Legal Help has helped is way beyond our original expectations, and the technology that has been provided on the site is top of the line.
What part of your professional background do you think best informs serving on the Foundation's board?  
I think that the fact that I have been involved with pro bono activities while on the board of the Columbus Bar Association. Also, serving as a coordinator for my firm and working on pro bono matters has been of great value because I have a much better sense of the need and the Ohioans who need assistance.
Anything else you'd like to add?
I cannot stress enough that the strength, expertise, and the caring of the staff, particularly the executive director, has made serving on the board so valuable. I can really appreciate the huge positive changes that have been made in the past several years.