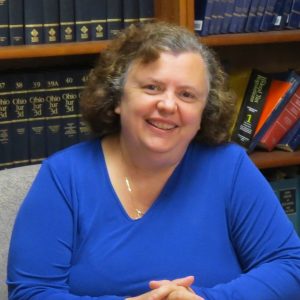 Miriam Sheline, managing attorney at Pro Seniors, is the 2021 recipient of the Ohio Access to Justice Foundation Denis J. Murphy Award.
Each year, the Foundation presents the Denis J. Murphy Award to an attorney who displays outstanding leadership and advocacy within Ohio's legal aids.
"This is a well-deserved recognition for Miriam's 25 years of advocacy for seniors, advancing their interests, and championing their rights," said Dimity Orlet, executive director of Pro Seniors. "Miriam's passion, expertise, and skills are an inspiration to everyone at Pro Seniors, especially the legal team, which she manages and leads so well."
As Pro Seniors' Managing Attorney, Sheline oversees the organization's legal program, including the Legal Helpline. The cornerstone of Pro Seniors' legal services, the Helpline serves thousands of older Ohioans each year. Sheline also oversees Pro Seniors' staff attorneys, who advocate on behalf of low-income seniors in legal matters such as Medicaid appeals, pension rights claims, estate planning, elder abuse, consumer, and real estate matters.
Sheline is a skilled trial lawyer, routinely appearing in cases at all levels of the Ohio judicial system, including appearances before the Ohio Supreme Court. Her legal work in medical debt collection and Medicaid reform has profoundly improved the lives of millions of Ohio senior citizens.
Sheline is well-known and recognized across the state as a justice leader. She serves as the Advocacy Director and liaison for the statewide Legal Aid Health Law Task Force. She also serves on the Cincinnati Bar Association Lawyer Referral Service Advisory Board, where she previously held positions as Secretary and Chair.
"Miriam has worked tirelessly to use the law to enhance the quality of life and independence of older adults," said Jennifer Day, board president of the Foundation. "This is a well-deserved honor."