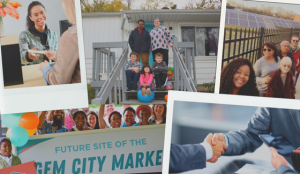 Today's financial institutions go far beyond deposits and lending. Ohio's modern financial institutions are innovators, business drivers, and neighborhood champions that invest in communities to make Ohio a better place to work and live.
Through its new Prime Partner Program, the Ohio Access to Justice Foundation is a natural partner to financial institutions that seek to meet or exceed Community Reinvestment Act (CRA) and environmental, social, and governance (ESG) goals. The Prime Partner Program optimizes benefits for financial institutions that join the program while increasing support for low-income Ohioans and the low-to-moderate income (LMI) Ohio communities that both financial institutions and the Foundation aim to serve.
"We have built a program that makes it easy for financial institutions to affect real change in their communities," said Kiko Yee, the Foundation's General Counsel and Chief Operating Officer. "Because the Foundation already has the infrastructure as Ohio's statewide access to justice entity, we can offer Prime Partners access to valuable business benefits — like yearly CRA certification — to help financial institutions meet their CRA and ESG goals."
Ohio IOLTA/IOTA Prime Partner Financial Institutions pledge to champion Ohio's LMI communities by paying premium rates on Interest on Lawyers' Trust Accounts (IOLTA) and Interest on Trust Accounts (IOTA). The interest generated from IOLTA/IOTA funds Ohio's legal aid organizations and other civil legal service providers. In 2021, more than 2 million Ohioans financially qualified for legal aid. Ohio's legal aids used CED funding from the Foundation to transform LMI neighborhoods through projects that create jobs, build community wealth, increase property values, and support small and minority-owned businesses.
The new Prime Partner Program offers a tiered structure featuring three levels: Platinum, Gold, and Honor Roll. The tiers allow financial institutions to elect the level of partnership most tailored to meet their unique business needs.
"The feedback from financial institutions has been overwhelmingly positive," Yee said. "The type of projects that the Foundation funds and our ability to provide statewide data on outcomes and impact are meaningful. Our relationships with the Ohio Supreme Court, the Ohio legislature, and other nonprofits add value for financial institutions, so much so that they're investing in a relationship with the Foundation and the Prime Partner Program."
The Prime Partner Program enables attorneys and title agents to readily identify the leading financial institutions committed to increasing access to justice and stabilizing Ohio's communities. By choosing to bank with a Prime Partner, attorneys can do their part to effect positive change.
"We encourage attorneys to bank with a Prime Partner or to ask their current financial institution to become a Prime Partner," Yee said. "Attorneys tell us they want to do business with organizations that care about the community. The Prime Partner Program is a direct response to their needs."
With the coronavirus crisis receding but pandemic-related challenges still lingering, now is a critical time in which financial institutions, attorneys, title agents, and the Foundation can work together to make a meaningful difference for Ohioans through civil legal services and access to justice.
"We are so thrilled with the response to the Prime Partner Program, and we're grateful to our Prime Partners for taking the leap with us," Yee said. "Together, we're going to do great things in Ohio."
Financial institutions interested in becoming Prime Partners should visit the Foundation's website or email primepartner@ohiojusticefoundation.org for more information. Attorneys and title agents can bank with a Prime Partner to support access to justice or ask their current financial institution to become a Prime Partner.