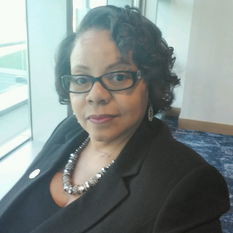 Vanetta Jamison is a former legal aid client turned Board President of The Legal Aid Society of Cleveland, a passionate advocate for Ohio's veterans, a fierce champion for disadvantaged children, and an extraordinary person. In short, just the type of committee member the Ohio Access to Justice Foundation sought when forming its Diversity, Equity, and Inclusion (DEI) Committee, a group charged with identifying opportunities to improve DEI in Ohio's civil justice system.
Born and raised in Cleveland, Jamison has always had a love for her community and a deep empathy for people who are struggling. Before she discovered her life's work in serving veterans, Jamison ran a daycare for children with developmental disabilities and children who suffered from domestic abuse while simultaneously completing her college education and raising a growing family.
Now at the U.S. Department of Veterans Affairs (VA), Jamison works in Veterans Benefits Administration, traveling across Ohio to educate and connect veterans to housing, education, disability, and other VA benefits.
"There are so many resources available to help [veterans] with whatever they may be going through, from PTSD to small concerns, like a bus pass," Jamison said. "Whether it be through veterans' treatment courts, mentors from county veteran service organizations, or attorneys from their local legal aid organization, there's a resource out there."
Jamison relates to veterans because she has family members that served in the military and because she knows what it's like to need help. Jamison was a legal aid client nearly two decades ago when she needed help with a divorce. At the time, she was unfamiliar with divorce proceedings and was unsure of how to move forward with everything she had on her plate.
"I had five sons, and I was suddenly without the support that I was used to," she said. "I was really devastated and overwhelmed."
The Legal Aid Society of Cleveland assisted Jamison through the divorce proceedings while she focused on school and raising her children. The experience was so life-changing that she decided to volunteer with legal aid, eventually receiving an invitation to join its Board of Directors and ultimately becoming the organization's president.
"[Legal aid] doesn't tell you that you're at the bottom of your bucket and you'll never crawl out," she said. "They're like, 'there's a ladder somewhere, and we're going to help you find it.'"
Today, Jamison brings her unique skillset and perspective to the Foundation's DEI committee. She joins committee members from the Foundation's board and leaders from around the state who represent diverse organizations ranging from the private bar to Ohio's Black Judges Association to the Ohio Commission on Latino Affairs.
"I'm looking forward to seeing where the committee goes," she said. "I'm excited to see how we're going to take the data and information that we're gathering, and the resources that we know that are out here and make them available to the individuals who need it the most."
The Ohio Access to Justice Foundation is leading the statewide effort to prioritize diversity, equity, and inclusion in civil legal services. A gift to the Foundation supports this crucial work.