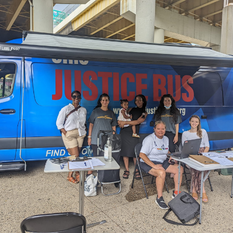 When the Ohio Justice Bus sought volunteer lawyers to help staff legal clinics in Hamilton County, the Black Lawyers Association of Cincinnati (BLAC) was at the top of the list. BLAC, an affinity bar association that works to ensure all lawyers and law students have equal opportunity to share in the benefits of the legal profession, provided member volunteers for several Ohio Justice Bus record sealing clinics in 2022.
"Volunteering with the Ohio Justice Bus directly ties to BLAC's core pillars of being both in and a part of the community," said Angela White, BLAC community action chair.
BLAC's commitment to the community guides the organization in all of its work. The association helps Black lawyers obtain employment, advocates for Black legal professionals, and works with national and state bar associations to solve problems unique to all lawyers. Both established and new attorneys benefit from BLAC's professional support network and from BLAC's commitment to addressing challenges Black lawyers face in a predominately white profession.
"The number of Black attorneys isn't growing, particularly in Cincinnati," White said. "We come together and talk about the issues unique to us from where we sit. We bring our different perspectives and ideas, listen to some of the major concerns, and brainstorm how we might best address those problems."
In addition to connecting Black lawyers around the city, BLAC also brings together law students through a host of annual professional and community activities, including a resume and bar prep course, a scholarship program, and a "Welcome Back" barbeque for 1L students, hosted at a BLAC member's home. When the Ohio Justice Bus heads to the Black Family Reunion in Cincinnati this August, BLAC members and law students will again volunteer with the Bus to support the legal needs of the Black community.
White received a BLAC scholarship in law school and credits the association's support as a catalyst for her thriving career today as an in-house corporate attorney.
"Having that community sustained me and encouraged me to keep going," she said. "We are not a large group of individuals in this profession, and it's really important to establish and build the community to retain Black lawyers."
The Ohio Access to Justice Foundation funds the Ohio Justice Bus. Visit www.ohiojusticebus.org for a complete list of clinics and to volunteer.