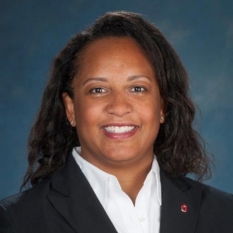 When Kim Shumate was a young attorney serving as co-chair of the Supreme Court of Ohio's Task Force on Pro Se and Indigent Litigants, she had the opportunity to get to know the late Chief Justice Thomas Moyer. The Chief Justice, impressed by Shumate's dedication to access to justice, appointed her in 2005 to the Ohio Access to Justice Foundation's Board of Directors, setting off nearly two decades of service on the Foundation's board that continues today.
Shumate's board tenure, during which she made a significant professional move from private practice to The Ohio State University, culminated in 2019 when she served as Foundation board president from 2019 to 2021. Her term marked the Foundation's twenty-fifth anniversary and accompanying gala celebration; a name change to the Ohio Access to Justice Foundation and an expanded focus to go with it; and the start of the COVID pandemic. It was a pivotal period in the Foundation's history, and Shumate proved to be the right leader for the job.
"There was a lot that happened during that time, a lot of change for the Foundation," Shumate said. "I was happy to help lead through that change, and although it was a challenge, I was glad to be there to help steward the Foundation through the pandemic."
During the pandemic, Shumate's leadership was crucial to expanding funding for Ohio's legal aids. Shumate helped advocate for a new law that directed Attorney Unclaimed Funds to support civil legal aid and access to justice, creating a new funding source that helped ensure legal aid could continue its work during the crisis.
Through it all, Shumate led with her characteristic collaborative style, honed through various leadership positions at Ohio State, where she currently is the associate vice president of strategic initiatives in the Office of Human Resources.
"A leader's job is not to know all of the answers or to solve every problem, but to remove barriers and help see ahead for your team," she said. "I think that the key to success is embracing the talents of the people around you and ensuring that you work together toward a common purpose."
While Shumate doesn't practice law in her current role, she remains active in the legal profession through the Foundation and the Columbus Bar Association. She is also a stalwart advocate for diversity, equity, and inclusion (DEI) and has spoken for the Ohio Chamber of Commerce on DEI and how it applies to an aging workforce.
"[DEI] is really relevant to the practice of law and to people looking for representation," Shumate said. "Whether it's trying to find an attorney of the same race or ethnic background, or one who is the same gender or the same identity, or someone who comes from the same part of the world, people want to make those choices."
If there is a through line in Shumate's professional life, it's service to others and a commitment to excellence.
"The essential parts of my career have been serving people and helping solve their problems," she said. "I really do enjoy being able to help make systems better and to help improve things for people."
The Ohio Access to Justice Foundation's Board of Directors serves from around the state and is committed to improving access to justice. Meet the Board.