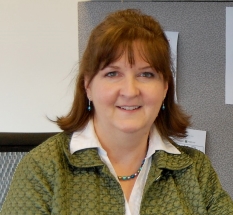 Ohio Access to Justice Foundation Board President Jennifer Day has had several big jobs in government, but two stand out as preparation for her role on the Foundation's Board of Directors. When she was Chief Assistant Prosecutor for the Family Law Division in the Hamilton County Prosecutor's Office, and Chief of the Crime Victims Division at the Ohio Attorney General's Office, it opened her eyes to how difficult it can be for Ohioans to access legal services and representation.
"As a prosecutor, you're sitting next to somebody who needs help," Day said. "It gave me a real appreciation for civil legal services and the need for them."
Now, as Chief of Operations in Ohio Treasurer Robert Sprague's office, Day calls upon her decades-long public service career as she sets priorities for her second year as the Foundation's president. It's a role she's well-equipped for, after nearly 20 years of Foundation board service as the Treasurer's representative, including leading the nonprofit's strategic planning process in 2019.
"When we built the strategic plan, I had the opportunity to go around the state and talk to stakeholders to really find out what the issues are," Day said. "The plan resonates with me because I was on the ground helping to develop it."
Through the final year of her two-year term, Day hopes to build on the Foundation's core mission as the largest funder of civil legal services in Ohio and continue to develop new funding opportunities. In 2021, the Foundation worked with the Ohio Department of Commerce and legislators to champion a provision to direct Attorney Unclaimed Funds to access to justice, ensuring that more funding is available to help low-income Ohioans in need of life-changing civil legal assistance.
"Working with Commerce on unclaimed funds was a fantastic opportunity for the Foundation and the Foundation Board," she said. "There may be other opportunities with state agencies to explore."
Also, on the agenda is remaining in touch with local communities. When the Foundation learned from Gov. Mike DeWine's office that there was a need to help with the immigration legal needs of more than 1,600 Afghans seeking safety in Ohio, the Foundation quickly mobilized to action. Together with the Ohio State Bar Association and the Ohio Department of Job and Family Services, the Foundation offered training and funding opportunities to Ohio nonprofits and pro bono attorneys to meet the needs of our newest Ohioans.
"Letting our stakeholders know who we are, what we do, and what we can do is so important because needs change," Day said.
Ultimately, Day is a public servant dedicated to making life better for Ohioans.
"Public service is where my career is and where my passion is," Day said. "Being able to serve people is great, and I would not trade public service for anything. I see serving on the Ohio Access to Justice Foundation Board as an extension of public service, and I've thoroughly enjoyed it."
The Ohio Access to Justice Foundation's Board of Directors serves from around the state and is committed to improving access to justice. Meet the Board.