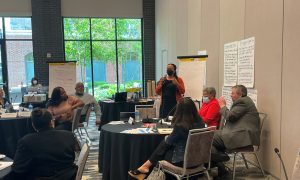 In late July, the Ohio Access to Justice Foundation convened a new, standing committee, the Diversity, Equity, and Inclusion Committee. The committee is composed of a handful of Foundation board members and other leaders from around the state who represent organizations ranging from the private bar to Ohio's Black Judges Association to the Ohio Commission on Latino Affairs.
The Foundation created the committee to leverage resources and convene stakeholders to identify opportunities to improve diversity, equity, and inclusion ("DEI") in Ohio's civil justice system.
"We want to apply a DEI lens to all of the Foundation's work and focus on the legal challenges faced by Ohioans of color struggling to make ends meet," said Judge William Klatt, DEI Committee Chair and Foundation board member.
The Foundation retained Equius Group, a Cleveland-based consulting firm, to facilitate the retreat and help the committee meet its goals. Equius helped ground the conversation by providing a framework centered on racial equity.
"There's a history, culture, and ideology behind all of these issues that have disadvantaged people of color," said Erica Merritt, Equius Principal Consultant.
The disadvantage is apparent when reviewing data on debt, education, foster care, health, housing, and poverty generally. Rachel Perry from Strategic Data Analytics is supporting the committee by gathering and presenting publicly available data on substantive areas of disparity and their intersection with legal issues.
While the data presented at the retreat reflected significant differences in outcomes for Ohioans based on race, a number of committee members noted that data is only one piece of the equation which the committee must consider.
"When we're looking at the data, we have to remember that there are people and communities missing that should be identified," said Ayesha Cotton, DEI Committee member and Community Legal Aid Managing Attorney. "For many communities of color, there's a large mistrust in the system, so we should look at how we can rebuild those relationships."
DEI Committee members used the retreat, funded with a grant from the Ohio State Bar Foundation, to begin their consideration of how to leverage legal services, access to legal information, and legal guidance to redress issues and increase racial equity. The committee agreed to undertake the additional conversations, community engagement, and information review necessary to give it the information it needs to be a positive change agent for increased equity in the civil legal system in Ohio.
The Ohio Access to Justice Foundation is leading the statewide effort to prioritize diversity, equity, and inclusion in civil legal services. A gift to the Foundation supports this crucial work.