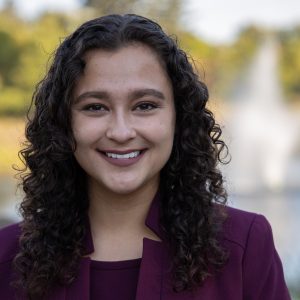 Through her fellowship with Advocating Opportunity, first-year Ohio Access to Justice Foundation Justice for All Fellow Nicole Cote wants to bring light to one of the most marginalized groups in society – sex workers.
Cote's fellowship, entitled "The Safe Call Project," provides holistic civil legal services and protections to individuals engaged in consensual sex work by preventing exploitation of their rights. She will address the many civil legal issues facing sex workers, such as housing insecurity, access to healthcare, and labor rights violations while fighting stigma through education and advocacy.
"I'm excited about the possibility of just making [that] community feel safer and more provided for, by creating an avenue for their voices to be heard in whatever capacity they need," Cote said.
Cote originally became inspired to work with sex workers when she interned with Advocating Opportunity, which specializes in working with victims of human trafficking, during her 3L summer at the University of Toledo College of Law. While there, she spent most of her time doing legal research, writing, and learning more about the organization.
Cote then approached executive director Megan Mattimoe and asked if there was a group of individuals whom she felt Advocating Opportunity could expand their services to. Mattimoe responded with sex workers.
"At the time, I didn't know too much about the challenges that community faces," Cote said. "I did some research and learned so much about the specific marginalization and discrimination that sex workers experience."
Clients who are referred to Cote's project won't have to be survivors of human trafficking, which is something that distinguishes it from the other work of Advocating Opportunity. But the clients may have similar struggles such as experiencing trauma and other vulnerabilities.
This is one of the reasons why trauma-informed care and responsiveness is crucial, which is a lesson Cote learned as an intern. She hopes to continue learning more about advocacy with a client-led, rights-based approach.
"There's a lot to learn about trauma-informed care and services that is so transferrable to every client in every unique situation," Cote said.
Another part of Cote's project includes collaboration with stakeholders in the community to learn more about what support and civil legal representation sex workers would find most valuable. One of the stakeholders includes the Toledo Legal Aid Society, which will provide representation for criminal matters.
"The goal is to address any of the civil consequences that could be associated with the criminalization of sex work to create well-rounded legal supports, and address all of those issues at the same time," Cote said.
There's a lot of misunderstanding about what it means to be a sex worker, which Cote said, "continues to perpetuate discrimination against the community."
"If we can get out front and debunk some of those myths and misconceptions and demonstrate that there are effective alternatives to direct criminalization, hopefully, that will create a positive collateral effect on sex workers and help them feel safer." Cote said.
The Ohio Access to Justice Foundation funds law school graduates with a passion for public service to address urgent legal problems facing Ohioans. Meet the Justice for All Fellows.