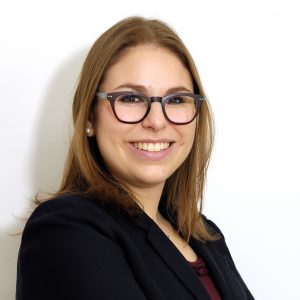 Since beginning her fellowship at the Legal Aid Society of Greater Cincinnati last September, second-year Ohio Access to Justice Foundation Justice for All Fellow Rachel Barr has helped dozens of families get the legal help they need to improve life for their children.
Barr's fellowship supports Child HeLP, a medical-legal partnership between Cincinnati Children's Hospital Pediatric Primary Care Center (PPC) and legal aid. Child HeLP assists families in resolving issues such as poor housing conditions and inadequate special education services through legal assistance to improve the health and well-being of children. Barr's focus is advocacy for children who have behavioral health issues to reduce health and educational disparities.
Barr spends most of her time in her office at legal aid. One day a week, she works at Cincinnati Children's Hospital, meeting with providers and families that come to the PPC. After months of COVID restrictions during the first year of her fellowship, the time onsite to meet with families is invaluable.
"The kids were really struggling with remote learning," Barr remarked of the last, near completely virtual school year. "It was challenging to try and help those students, and also work collaboratively with schools to try and figure out how best to support kids in a really unique and unprecedented environment."
Over the past year, Barr's caseload has involved several access to healthcare issues. Some of these included Medicaid waiver cases for kids with physical and behavioral health issues, as well as supplemental security income cases. On the education side of her advocacy, her work has almost exclusively involved helping children obtain special education services.
As the fallout from the pandemic continues, Barr has adjusted to figure out the best way to support the needs of children in school.
"Even now with kids back in school [in-person], there are so many additional stressors that the kids face because of the pandemic, and you can see that in the increased need for mental health services this year."
Despite the obstacles, Barr's fellowship experience has solidified her passion for working for legal aid and with children with behavioral health issues.
"There are a lot of challenges with doing legal services work," Barr said. "But I find it really fulfilling, and I'm so excited to continue on this path."
The Ohio Access to Justice Foundation funds law school graduates with a passion for public service to address urgent legal problems facing Ohioans. Meet the Justice for All Fellows.