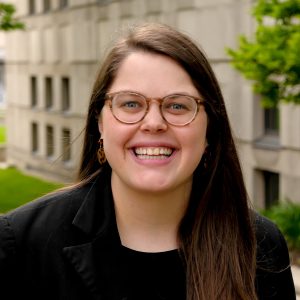 When advocating for domestic violence survivors, it's crucial to handle cases with a trauma-informed lens. That's one of the biggest lessons Rebekah Tefft, second-year Ohio Access to Justice Foundation Justice for All Fellow, learned over the past year of her fellowship at The Legal Aid Society of Columbus.
"When working with [the clients], sometimes the actions they take are born out of their trauma, and it's important to recognize that in every part of the representation," she said.
Tefft's fellowship has two components, the first of which is to provide holistic legal services to domestic violence survivors. Because domestic violence survivors often have several legal issues, such as housing insecurity or challenges related to public benefits, Tefft gets to handle a wide array of cases and has gained experience working across different teams at legal aid. For a new attorney, it's beneficial that she has access to attorneys in various practice areas who she can ask for help.
The second part of Tefft's fellowship is to create a follow-up tool to check in with clients both during and after representation. The tool will measure the effectiveness of legal aid's service and will help determine the barriers that remain for clients.
Tefft wants to focus on the implementation of the tool over the next year.
"We want to focus on getting the research done and getting the tool created," Tefft said. "Hopefully, it will be a tool that can be used statewide in all the legal aids."
Tefft cites several positive outcomes in her fellowship so far, including public benefits cases that she handled at the height of the pandemic.
"When the pandemic unemployment was going on last year, I had multiple clients that I was able to get thousands of dollars of payments for," Tefft said. "It was exciting to see tangible results for the clients."
Tefft also had her first trial a few months ago, which involved a family custody case.
"It was two days and two afternoons, and we're still waiting on the results," she said. "But it's exciting to be able to represent my client in a court proceeding during my first year of practicing law."
Overall, Tefft feels confident about her position within legal aid and wants to continue representing and advocating for domestic violence survivors.
"I think the unique part of legal aid is that you can be holistic and work in multiple areas of the law that overlap with each other," Tefft said. "I have always wanted to be a public interest attorney and working at legal aid has been an amazing experience."
The Ohio Access to Justice Foundation funds law school graduates with a passion for public service to address urgent legal problems facing Ohioans. Meet the Justice for All Fellows.