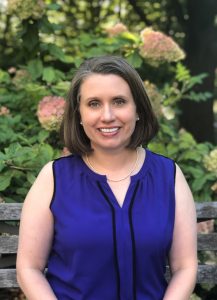 Camille Gill, our new Programs & Grants Counsel, has lived all over Ohio. Camille grew up in Canton and has worked and lived in Cincinnati, Toledo and Cleveland. Camille comes to us from the Catholic Charities Migration and Refugees Services in Cleveland, Ohio and we are so excited she's now in Columbus.
Q: What do you like most about Columbus so far?
A: I really love the parks. I recently went to both the Schiller and Goodale parks and was impressed. They are so artistically beautiful!
Q: What do you like to do in your free time?
A: I love to run and I am currently making a run "to-do" list so that I can see more of the parks around Columbus. I also love to cook and bake. My 2019 New Year's resolution was to bake a birthday cake from scratch for each one of my family members. For example, I baked my mom an Italian lemon cream cake, my sister got a Walter Mitty clementine cake and for my aunt – a Cassata cake (Corbo's Bakery style).
Q: If you could trade places with anyone for a day, who would you choose?
A: A house cat, which is also my spirit animal. Sometimes when I'm stressed, I wish I could sleep all day long like a house cat does.
Q: What's the best advice you've received?
A: I have felt at times like the weight of the world can be on my shoulders as a nonprofit lawyer. Especially with immigration cases, you can get easily disheartened because of the system. Someone once told me, "Always remember that the client is better off with you than without you." You are giving them a fighting chance and a voice, and that is very important.
Q: What's one thing most people don't know about you?
A: I am a local news junkie! That was one hard part about leaving Cleveland – I didn't want to leave all of the local news personalities I had gotten to know. However, I'm working on a new rapport with NBC4 news. Meteorologist Bob Nunnally is pretty great – he seems so friendly.
Q: Anything else you want to add?
A: I am super excited to be at the Foundation and get a chance to work at a place where my immigration experience is relevant but I can get back to my generalist roots and expand on that.