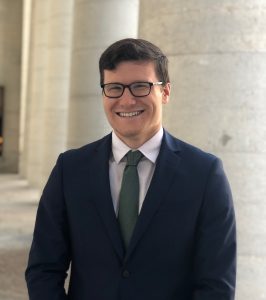 Jack Maib, our Justice For All Fellow who drives the Ohio Justice Bus, comes to us from Cleveland, Ohio. Jack is a recent graduate of Case Western Reserve University School of Law where he met his fiancée Kelsey. We are so excited that Jack is a part of the team!
Q: What led you to this career?
A: I always knew I wanted to help people but I wasn't exactly sure how I was going to do that. I majored in political science in college, took some law classes and eventually decided to apply to law school. Once I was in law school, I found my passion in public interest law. Being able to make an impact on someone's life makes me very happy.
Q: What do you like most about Columbus so far?
A: Even though I travel frequently, I really enjoy the food scene in Columbus. I live near Bethel Road and there's an amazing Thai restaurant called Bamboo Thai Kitchen.
Q: What's your life motto?
A: My life motto is, "Do what makes you happy."
Q: What's your go-to karaoke song?
A: Definitely "Blank Space" by Taylor Swift. I am a huge fan and even got to go to her concert in Cleveland a couple summers ago.
Q: What superpower would you like to have?
A: I'd love to be able to fly. I could avoid traffic, and maybe even take the Justice Bus in the air.
Q: What's one thing most people don't know about you?
A: I write poetry sometimes. I started a few years ago and have gotten into it. My poetry is in the hip hop social justice style – like a Kendrick Lamar song.
Q: What other hobbies do you have?
A: I enjoy staying active by playing soccer or volleyball, or by going to the gym. I also love reading, particularly fantasy or fiction series books. I am about to start reading His Dark Materials: Golden Compass by Philip Pullman.
Q: Anything else you want to add?
A: I am loving my job right now and it's awesome to see the tangible impact we have on the community. I am very much looking forward to continuing my career in public interest law.