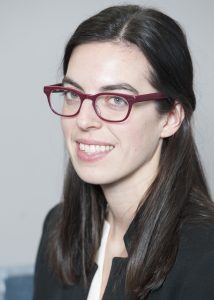 Navigating civil legal issues can be a daunting task, especially if an experience with the criminal justice system compounds those issues. Justice for All Fellow Julia Lauritzen helps Ohioans facing criminal misdemeanor charges connect with legal aid to simultaneously address civil legal issues.
"There are a lot of civil issues that the criminal justice system can trigger, and most of the people moving through the system are low income," she said.
Julia decided to explore public interest law after a shadowing opportunity at The Legal Aid Society of Cleveland when she was a senior in high school.
After college, she gained work experience with AmeriCorps and eventually returned to legal aid to work as a paralegal. Through these opportunities, she knew she wanted a career in public service.
"I think I've always felt drawn to the public service arena, specifically working with low-income individuals and families," she said. "There's so much need and a lot to do, so I find the work to be rewarding."
At The Ohio State University Moritz College of Law, she completed a summer clerkship at the Cuyahoga County Public Defender. While there, Julia was a part of a committee that explored holistic defense, which considers all criminal and civil legal needs.
It was there that she began to develop the idea behind her fellowship. She also knew she wanted to work specifically with The Legal Aid Society of Cleveland.
"The project is to create a partnership with the Cuyahoga County Public Defender to help address some civil legal needs of their clients who are in the midst of their contact with the criminal justice system," she said.
The public defender refers clients to Julia if they have a civil legal issue that either exists independently or is exacerbated by their criminal charges.
Throughout her fellowship, Julia hopes to set up a sustainable partnership that can continue after the fellowship is over. She also wants to help more criminal justice-involved individuals access the civil justice system.
"I hope we can set up some good processes so that clients of the public defender who are facing civil issues can access legal aid moving forward," she said. "Making that process more streamlined and accessible is my goal."
The Foundation funds new attorneys with a passion for public service through Justice for All Fellowships to address urgent legal problems facing everyday Ohioans. Learn more.