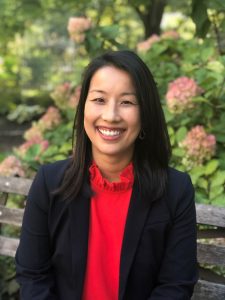 Yukiko (Kiko) Kuwata Yee, our General Counsel & Chief Operating Officer, comes to us from the Ohio Attorney General's Office where she prosecuted complex financial fraud cases. Kiko is not only a committed public servant, but she also is a wife and mom to two daughters. We are thrilled that Kiko is helping to lead the Foundation and promote justice for all.
Q: What led you to this career?
A: I grew up in upstate New York in a small community and when I went to college, I stumbled across a summer job working as a canvasser for the New York Public Interest Research Group. Initially, I thought it would be just a way to earn money for my school books, but it turned into how I discovered my passion for social justice issues. Sitting on the concrete steps of dozens of homes, I heard incredible stories about financial, medical and legal struggles. It was truly eye-opening to see how many people faced hardships on a daily basis. This experience inspired me to attend law school where I pursued a public interest track. Since then, my career has centered around making the world better through justice, and it has been immensely gratifying.
Q: What do you like to do in your free time?
A: I love baking elaborate cakes, similar to the Cake Boss. It started about a year ago when my daughter asked me to bake her birthday cake and I have gotten really into it ever since. It's not only been an artistic escape for me, but there is nothing like the joy on people's faces when they get a cake made especially for them.
Q: What inspires you?
A: I am inspired by strong leaders who lead with humility, authenticity and grace.
Q: Dogs or cats? (Or a different animal)?
A: I love dogs. They are always so happy to see you and unbelievably loyal. Our family has a Jackahuahua named Kiji. He's part Jack Russell Terrier and Chihuahua.
Q: Favorite TV show?
A: My husband and I love "Game of Thrones." We went to the "Game of Thrones" concert that was in town recently. We also love traveling and have a scratch off map at home. Several of the countries that have been scratched off were film locations for "Game of Thrones."
Q: What's one thing most people don't know about you?
A: I'm a piano player and it's actually how I helped pay my way through college. I would perform at an Italian restaurant called Pino's on the weekends. I also worked for a newspaper in high school and on breaks from college. I started in the obituaries section and eventually worked my way up to having my own column called "21 & Under" which focused on fun events and concerts around town.
Q: Anything else you want to add?
A: I believe in mindfulness, and that we should all strive to live the best version our lives. I feel incredibly blessed to have recently joined the Foundation, where I am able to do just that. Day in and day out, our team works tirelessly to increase access to justice and help meet the civil legal needs of struggling Ohioans. I share a strong sense of purpose in our mission, and feel energized each day, knowing we are working to create positive change. For me, this is a dream job.