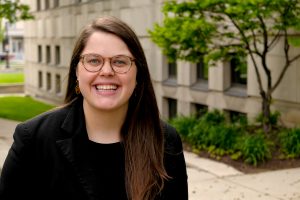 Justice for All Fellow Rebekah Tefft knew going into her first semester at The Ohio State University Moritz College of Law that she wanted to pursue a career in public service. Her first summer in law school, she worked at the Ohio Public Defender's office. She particularly felt drawn to working with vulnerable populations.
"I didn't want money to be a consideration in my practice of law," she said. "I like helping people and not taking their financial status into consideration."
Though she enjoyed working at the public defender, Rebekah found it was a limiting experience as she could only handle one case at a time. She wanted to explore other options that would allow her to touch on more issues facing Ohioans.
That's when she was introduced to legal aid by volunteering at clinics with The Legal Aid Society of Columbus. She was inspired to work for legal aid after seeing how impactful the work could be.
"I came to legal aid to create a fellowship that would look at an individual's situation holistically so that I'm able to address multiple issues rather than just their one criminal case," she said.
Rebekah connected with Stu Itani, managing attorney at The Legal Aid Society of Columbus, and Kate McGarvey, executive director of Ohio State Legal Services Association. The three sat down together and created a fellowship proposal to provide holistic legal services to women facing housing instability and domestic violence.
In addition to providing direct legal services, Rebekah also wants to create a follow-up tool to see how living circumstances have changed for clients because of the assistance they received from legal aid. She said this tool is crucial for evaluating the quality of services for women after leaving unstable situations.
"Hopefully, the follow-up tool will be applicable organization-wide," she said.
Finally, Rebekah also wants to connect with the community to learn more about how to help women and children who experience economic hardship and domestic abuse. She hopes to make a difference by working with community organizations to impact the lives of vulnerable women and children across Franklin County.
The Foundation funds new attorneys with a passion for public service through Justice for All Fellowships to address urgent legal problems facing everyday Ohioans. Learn more.