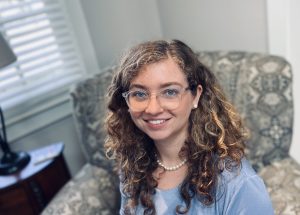 After learning about the environmental exploitation and injustices often faced by lower-income and Appalachian communities, Justice for All fellow Caitlyn McDaniel wanted to make a difference.
As a recent Ohio University graduate, she stayed in the Athens area and got involved by joining the Buckeye Environmental Network. It was during this experience that Caitlyn discovered her love for direct service work with low-income communities.
But after seeing her colleagues struggle to work on environmental issues while facing economic hardships, Caitlyn decided to further her education to make more sustainable change.
"I realized a lot of the people I was working with, who were incredibly passionate and cared so much about their communities, found it hard to worry about fracking when they were struggling just to stay in their home or to keep their job," she said.
Caitlyn's interest in working directly with her community never waned in law school. She eventually volunteered with Southeastern Ohio Legal Services (SEOLS) as a Rural Summer Legal Corps fellow. At SEOLS, she became interested in housing law when she shadowed the Tenant Advocacy Project (TAP) at The Legal Aid Society of Columbus. TAP provides legal assistance and representation for tenants facing evictions to reduce displacement and increase access to affordable housing for low-income clients.
"I knew immediately that was something I wanted to be involved in," she said of the program. "[Eviction] is such a big issue in southeastern Ohio."
Caitlyn's fellowship mimics the TAP program's goals and adapts them to SEOLS's rural populations. Her fellowship also expands some of the original program components to provide information to tenants about their legal rights and resources available through legal aid.
An overarching goal for the fellowship is to see a decrease in unrepresented evictions.
"Sometimes you can't prevent them, but we can at least get a great entry or some sort of negotiation that makes sure that the tenant isn't going to have an eviction on their record," she said.
Caitlyn also plans to track data around evictions in Fairfield county. She wants to identify eviction trends for different racial demographics, single-parent households, and the elderly. Her ultimate hope is that this data will help her become more informed about evictions so that she and other housing attorneys can make targeted efforts for specific demographic groups.
The Foundation funds new attorneys with a passion for public service through Justice for All Fellowships to address urgent legal problems facing everyday Ohioans. Learn more.