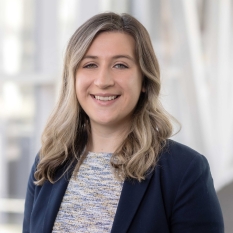 The Ohio Access to Justice Foundation's New Admittee Pro Bono Challenge came at a perfect time for attorney Elizabeth Haavisto. A recent University of Akron School of Law graduate, Haavisto had a three-month break between passing the bar and starting her new position as a legal fellow at Goodyear. Rather than kick back and enjoy her time off, she saw the break as an opportunity to help others.
Haavisto signed up for the Pro Bono Challenge, which asks new admittees to the Ohio bar to complete pro bono service at participating legal services organizations. She volunteered at Community Legal Aid, a Foundation grantee that helps thousands of northeast Ohioans resolve civil legal challenges to improve health, safety, and financial security.
"Goodyear has a partnership with Community Legal Aid, where Goodyear attorneys volunteer at a monthly expungement clinic," Haavisto said. "We help people looking to get their records sealed or expunged so that they have better work opportunities and better housing opportunities."
Although Haavisto had no prior experience in record sealing and expungement law, she quickly got up to speed thanks to Community Legal Aid's thorough training.
"We make sure that every attorney who volunteers is prepared and confident," said Ken Mirkin, Community Legal Aid's director of client services. "We want the experience to be successful for both the client and the pro bono attorney."
Volunteering also helps new attorneys gain practical experience, collaborate with other attorneys in the community, and explore new areas of law. While motivations to volunteer vary among attorneys, for Haavisto, growing up with a brother with cerebral palsy pushed her to give back.
"My brother has inspired me to reach out and help people and to seek opportunities where I can serve others," she said. "Having my brother's influence is a big inspiration for why I give my time."
Winning the Pro Bono Challenge is another accomplishment in Haavisto's long list of achievements. She lived in Japan for three years prior to law school and is fluent in Japanese. While in law school, she completed over 630 hours of pro bono service for the University of Akron Research Foundation where she supported the Entrepreneurship and Innovation Division to help launch early-stage companies. Also, while at Akron Law, she helped establish a program to pair law students with international attorneys seeking publication in U.S. journals.
And she's just getting started. Haavisto's one-year fellowship at Goodyear concludes this summer, and she's ready for her next opportunity. Pro bono service will undoubtedly remain an important part of her professional life regardless of where she ends up.
"I think people become attorneys because they want to help others address the issues they might be facing in life," she said. "Volunteering is a good way to learn as an attorney, and it's a good way to give back and to help people who really need it."
The spring New Admittee Pro Bono Challenge runs through May 26, 2023. Visit the Foundation's Pro Bono Opportunities Guide to learn more about volunteer opportunities near you.