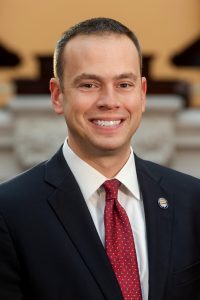 State Senator Nathan Manning (R-North Ridgeville) is the 2022 recipient of the Ohio Access to Justice Foundation Voice of Justice Award.
In 2015, the Foundation created the Voice of Justice Award to recognize a person or organization that demonstrates outstanding leadership and advocacy on behalf of low-income Ohioans who may need legal assistance to live stable, healthy, and financially secure lives.
As chair of the Senate Judiciary Committee, Sen. Manning consistently shepherds legislation to reform and improve Ohio's criminal and civil statutes, working collaboratively with numerous interested parties to create balanced and beneficial laws.
"Sen. Manning is a champion for Ohioans facing legal challenges," said Jennifer Day, the Foundation's board president, who presented the award to Sen. Manning during a reception in the Statehouse Rotunda. "His government experience and knowledge of the law enable him to provide leadership and counsel to ensure that all Ohioans can address their legal needs."
Sen. Manning supported legislative efforts to direct Attorney Unclaimed Funds to access to justice, ensuring that more funding is available to help low-income and underserved Ohioans overcome life-changing civil legal issues.
"Sen. Manning has been a crucial ally in championing legal services for low-income Ohioans," said Angie Lloyd, executive director of the Foundation. "We are so pleased to honor his extraordinary contributions with the Voice of Justice Award."