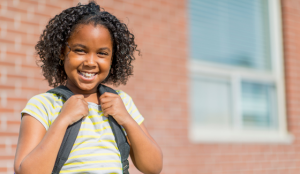 An innovative program in Springfield funded by the Supreme Court of Ohio is bringing together Clark County Juvenile Court, Advocates for Basic Legal Equality (ABLE), and Springfield City Schools to help chronically absent kids and their families get back on the path to success in school.
The program, envisioned and developed by Clark County Judge Katrine Lancaster and ABLE, aims to fulfill the Supreme Court of Ohio's goal of keeping families out of the child welfare, juvenile justice, and criminal justice systems by intervening early for at-risk families. To identify at-risk families and to best serve them, Judge Lancaster and ABLE pursued an affirmative, forward-thinking program to create partnerships with the school system and legal aid, two groups adept at ameliorating the challenges facing low-income families.
"The schools know what's happening with families," Judge Lancaster said. "Not sending your child to school indicates that something is going on in the family that you want to assist with."
The SUCCESS Program has been up and running since early 2022 and focuses on serving younger students. When a child at a participating Springfield elementary or middle school meets the criteria for chronic absenteeism, a multidisciplinary team from the SUCCESS Program joins the school to work with the family and offer services to help address the underlying issues that keep the child out of school. If a family opts into the SUCCESS Program, an ABLE attorney helps the family resolve civil legal challenges, and a parent advocate employed by ABLE works with an education liaison officer from the Clark County Juvenile Court to connect the family with social services.
"On average, each family can be facing up to five different legal issues," said Renee Murphy, managing attorney at ABLE and legal aid liaison to the program. "We provide legal services to stabilize housing, to improve families' economic stability, to ensure success in school, and to resolve family law matters. We also help families with things like medical appointments, finding furniture, and help with moving."
The hope is that the stabilized families will support their children's attendance at school and will ultimately avoid formal involvement with the child welfare system. As school absenteeism has significantly worsened during the pandemic, early prevention is crucial to getting kids back in school, and low-income families already stretched thin need resources.
"The legal system is extremely complicated," Judge Lancaster said. "Then you add in the school system and the system to access benefits. Navigating these systems are all real issues that families are dealing with in addition to making sure food is on the table and that they're not losing their housing."
After promising results in its first year, the Supreme Court of Ohio funded the SUCCESS Program to continue its work in 2023. Judge Lancaster hopes the community will take note, as she believes the long-term success of Ohio children and families is a responsibility that lies with the entire community.
"It's really about partnerships, and I've been appreciative of our partnership with the schools, with the courts, and with legal aid," she said. "If you can work well together and you're on the same page about your mission, you can accomplish a lot."
The Ohio Access to Justice Foundation is the largest funder of civil legal services in Ohio. A gift to the Foundation supports legal aid's work to keep kids in school.