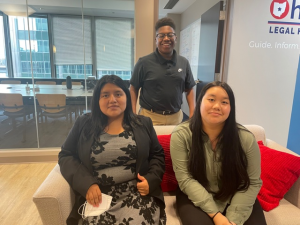 This week, the Foundation hosted three rising high school juniors from the Law and Leadership Institute (LLI). Through the support of funders such as the Ohio State Bar Foundation and the Supreme Court of Ohio, the LLI program works with high school students from underserved communities to educate and prepare them for careers in the legal profession.
As part of the program, students spend a week at a law firm, court, or other law-related venue to learn more about the life and work of lawyers. Hosting the students aligns with the Foundation's commitment to advancing equity in the legal profession and creating more pathways for students of color to pursue public service law.
"Before I came into LLI, I had no interest in law. But doing it now, I discovered that I actually like criminal law," remarked one student from Columbus Africentric Early College.
While at the Foundation, the LLI students learned about the Foundation's mission and dedication to access to justice work in Ohio while engaging with Foundation staff members about their roles. The students also worked on a research project which culminated in a small mock trial where they argued the facts of a case.
In addition to spending time at the Foundation, the students engaged in several other legal-related activities, including attending an Ohio Justice Bus clinic at Asian American Community Services; touring the Ohio Statehouse; attending sentence hearings and viewing a holding cell at the Franklin County Court of Common Pleas; and meeting with Attorney General Dave Yost, Solicitor General Ben Flowers, Judge Jaiza Page, Majority Deputy Legal Counsel Heather Blessing, and others.
For the students, LLI has made a great impact in both their personal and professional endeavors.
"It definitely changed my entire way of thinking," said a student from Cristo Rey Columbus High School. "With this program, you see all these things that need to be fixed, and you get to learn what steps you can take in order to do that. It definitely broadened my eyes in terms of what I can do."