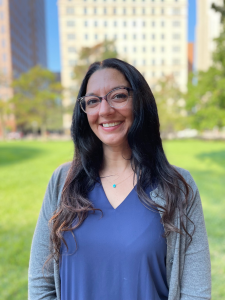 The Foundation is excited to welcome, Amanda Blake, the Program Manager for the Ohio Justice Bus! Amanda is a social worker who previously worked as the Director of Intensive Rapid Rehousing Plus for the Homeless Families Foundation.
Q: What led you to this career?
To put it simply, the innate desire to help people. Growing up I knew I wanted to be in a position where I could directly help and empower others. As a social worker I get to use my skills to help individuals and their communities improve their quality of life and well-being.
Q: What's the best advice you've received?
Whatever makes you uncomfortable is your biggest chance for growth, so embrace it!
Q: If you could trade places with anyone for a day, who would you choose?
Tough question, I would be happy to trade places with anyone for a day. The opportunity to get to see the world through the perspective of another person would be priceless regardless of who they are or where they are in life.
Q: What's your go-to karaoke song?
For the sake of others, I limit my karaoke singing to my car, in which case I sing every song I know the words to (which is a lot)!
Q: What do you like to do in your free time?
Anything outdoors and in the sun! I especially enjoy hiking, traveling, and kayaking. I spend a lot of time with my two dogs and cat as well.
Q: What are you most looking forward to with the Ohio Justice Bus?
I'm most looking forward to travelling the state making connections, educating communities, and advocating for those in need; all while helping to bridge the gap of legal and social services and enhancing access to justice for all Ohioans.