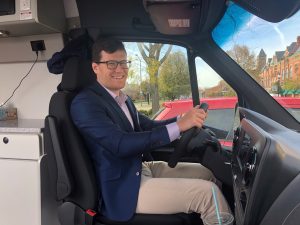 At the end of his two-year tenure with the Ohio Justice Bus, Jack Maib can look back knowing that he made an impact. As the Ohio Justice Bus Justice for All Fellow, Maib shepherded the Bus through various pandemic-related challenges, ensuring the Bus continued its mission of helping low-income Ohioans around the state access civil legal services.
He recalled when he was first looking for jobs in his third year of law school, and that he wanted to lend his legal talents to public service. He saw a job posting for the Ohio Justice Bus through the Foundation's Justice for All Fellowship program and decided to apply.
"I was immediately interested because I went into law school with the hope of giving back to my community. As a person who had only been living in Ohio for three years, I thought it would be a cool opportunity to explore the state, too," Maib said.
The Bus, launched in 2019, is a mobile legal aid office and technology hotspot that allows legal aid and pro bono attorneys to travel to and provide legal services to rural and underserved Ohioans. The Bus had several legal clinics planned for early 2020 when the stay-at-home orders commenced due to the COVID-19 pandemic.
"We had to pivot," Maib said. "But luckily, it ended up being a pretty unique way to provide legal services while also being socially distanced."
When buildings closed, the Bus' mobility allowed for clinics to be set up in parking lots. The Bus also had WiFi and laptops so that attorneys could volunteer virtually if they chose to do so. Clients had the option of visiting the Bus virtually as well.
"We were able to make the most of the situation we were put in, and really turn clinics that were supposed to be in-person into virtual clinics, and get new clinics going from the ground up," Maib said.
One of his proudest accomplishments was a record sealing clinic in partnership with the Ohio Justice & Policy Center. Maib met with four clients and helped them navigate the paperwork to get their criminal records sealed.
A month after the clinic, Jack received a call from one of the clients that a judge sealed his record, and as a result, he was able to secure job interviews and begin moving forward with his life.
"Being able to work with these clients from start to finish and getting successful case outcomes was something I am really proud of as an attorney," Maib said.
To volunteer for the Bus, please sign up at https://www.ohiojusticefoundation.org/contact-2/.