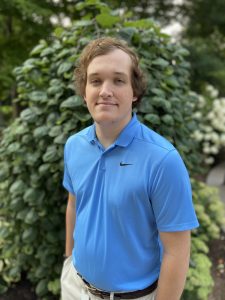 The Foundation is excited to welcome Matt Gilligan, our new Data Analyst! Matt comes to us from Pickerington, Ohio. He is a recent graduate of Ohio University, where he double majored in Management Information Systems and Business Analytics.
Q: What do you like to do in your free time?
In my free time I like to go to different sporting events and visit different breweries in Ohio.
Q: If you could trade places with anyone for a day, who would you choose?
If I could trade places with anyone for a day, I would choose Joe Biden because I think it would be cool to be the President for the day.
Q: What's the best advice you've received?
The best advice I have ever received was "Hard work beats talent when talent doesn't work hard." I really like this piece of advice because it is important to know you don't always have to be the best at what you do, its more about working hard and learning what needs to be learned.
Q: What's one thing most people don't know about you?
One thing most people don't know about me is that I was in the fraternity Lambda Chi Alpha during my time in college.
Q: What's your life motto?
Attitudes are Contagious. Make yours worth catching.
Q: What are you most looking forward to in your new role?
I am most excited about being able to work hands on with all the different data we receive at the Foundation. We deal with so many different things here and I am always working with new data. It makes my job really interesting.